New Publications
A long-awaited project!  Charbonneau is now in English!
The Green Light: A Self-Critique of the Ecological Movement (Bloomsbury Academic (June 2018)  Original French edition published in 1980 Le Feu vert de Bernard Charbonneau (réédition Parangon, 2009)
The Green Light ('Le Feu Vert') offers an original and profound exploration of the roots of environmental philosophy and the Anthropocene. Bernard Charbonneau situates the wellspring of the ecological movement in the dialectics of Nature and Freedom, and their needful but uneasy joining against the totalizing system of technological society that threatens them both. Using this paradoxical tension as a yardstick, he probes the ways in which concepts of Nature have developed as industrialization became second nature and jeopardized the original, taken for granted until its advent. This allows Charbonneau to explain how movements and policies claiming to deal with this issue have gone wrong. A spirited critique of how the environmental movement has taken shape in relation to philosophy, politics, theology and contemporary culture, this book written in 1980 is representative of an oft-overlooked strand of French environmentalist thought, as a look back on its first decade in the public eye by a man who had originated political ecology half a century earlier.
Charbonneau can be said to have prepared the way for many current concerns within environmental thought: the tension between liberalism and ecologism in green political theory; the wider question of the compatibility of ecological imperatives with supposedly foundational freedoms under capitalism; the discussions over how to balance existing democratic structures with environmental goals; the tensions between radical and reformist strategies within green movements; the controversy over the core values of ecological politics in a world transformed by climate change and peak everything; and the proper attitude of environmental movements to institutional science. This ground-breaking work should be front and centre of the debates that he anticipated, while giving a timely perspective on the interconnected questions of nature and human freedom.
This first English translation of a work by Bernard Charbonneau provides not only a vivid account of environmental philosophy, but an introduction to this important author's thought.
Bernard Charbonneau (1910-1996) was a French philosopher who specialised in political ecology and critiques of technology. Today he is considered by a growing number of environmentalists as a visionary forerunner of political ecology. View a full list of his writings and also read about Charbonneau's life and friendship with Ellul.
Christian Roy is a cultural historian (Ph.D. McGill 1993), an art and cinema critic, and a multilingual translator. He is an expert on the lives and thought of both Bernard Charbonneau and Jacques Ellul.
Read a longer review in French on the BioSphere website.
"This important book should have been translated more than 30 years ago. Yet it is even more relevant now, in a world undergoing global climate change, than it has ever been. Daniel Cerezuelle, Christian Roy, and Piers H.G. Stephens are all to be praised for making a book by Bernard Charbonneau available to English language readers."
–  Carl Mitcham, International Professor of Philosophy of Technology, Renmin University of China, China, and Emeritus Professor of Humanities, Arts, and Social Sciences, Colorado School of Mines, USA,
_____________________________________________________
From the "Modern Spiritual Masters" series by Orbis Books (2016)
Jacques Ellul: Essential Spiritual Writings (edited by Jacob Van Vleet)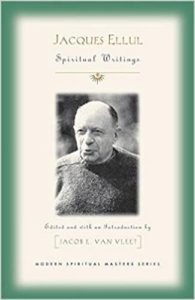 Throughout his work Ellul spoke out against the "idols and myths" of the modern age, including technology, politics, materialism, and violence. His prophetic critique of modern civilization won an appreciative audience far beyond Christian circles. Yet this was only one half of a project that drew deeply on his Christian faith.
For nearly every sociological book he wrote, Ellul would write a theological or spiritual counterpart. And yet this other half of his work has received relatively little attention. This volume corrects the balance, highlighting spiritual gems on prayer, hope, and universal salvation. His call to reject the worship of the state and to embrace nonviolent activism has an abiding relevance and urgency, particularly in these times of protracted war and violence, gaping economic inequality, and enormous suffering.
Jacob E. Van Vleet is an assistant professor of philosophy in humanities and philosophy at Diablo Valley College, Pleasant Hill, CA, and serves on the Board of Directors of the International Jacques Ellul Society. He is author of Dialectical Theology and Jacques Ellul (Fortress Press, 2014).
To order a copy from Orbis, click here.
_____________________________________________________________________
The following three books by Wipf & Stock Publishers can be purchased for 20% off when ordering directly from the publisher.  Call 541-344-1528 or email:  orders@wipfandstock.com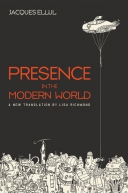 A new translation by Lisa Richmond (with a foreword by Ted Lewis, and an "Introduction to Ellul's Life and Thought" by David Gill)
To read more about the book and about ordering, click on the book.
"Today the moral question above all others is how to be truly awake and fully equal to the technological world. Jacques Ellul as a young man saw the question and began to outline the answer in Presence in the Modern World."
–Albert Borgmann, author of Power Failure: Christianity in the Culture of Technology
"Read Presence in the Modern World. Not only is it the introduction to Ellul's entire body of work, but its emphasis on Christians' revolutionary situation in the world has never been more relevant."
–Patrick Chastenet, University of Bordeaux; President, the Association Internationale Jacques Ellul
"This book announces Ellul's whole future body of work, bearing within itself the seed of that work's choices and developments."
–Bernard Rordorf
For a promotional flyer for this book, click here
---
 Edited by Jeffrey M. Shaw and Timothy J. Demy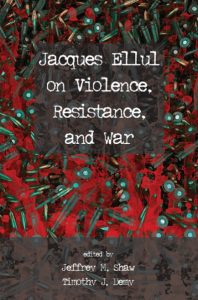 The last few decades seem to have ushered in new levels of violence, challenging the notion that our globalized, interconnected world offers increased prospects for cooperation and peace. Many philosophers and theologians have offered various reasons for why this might be so, but none has come so close as the French philosopher Jacques Ellul to providing a comprehensive explanation for many of the pitfalls inherent in increasing levels of technological advance. The chapters in this book explore the phenomena of violence, terrorism, and war through the lens of Ellul's thought. Readers unfamiliar with Ellul will find as much to consider in these chapters as those who have studied Ellul extensively, and for both the novice and the expert, this book offers an opportunity to both evaluate and reevaluate Ellul's extensive thought on matters of importance to contemporary society.
"Jacques Ellul on Violence, Resistance, and War brings together insightful essays by leading scholars on Ellul's relevance and foresight. In these times we owe it to ourselves to consider Ellul's wisdom. This is a thoughtful collection that will help us interpret, understand, and apply his profound ideas."
–Jacob E. Van Vleet, Diablo Valley College
"Jacques Ellul was one of the twentieth century's most prolific and influential public intellectuals. That his work inspired both pacifism and violent protest is a sign of its power and complexity. In this volume, Jeffrey Shaw and other thoughtful contributors explore the implications of Ellul's work as it relates to our contemporary world, awash as it is in violence. Anyone who wants to understand Ellul–or wants Ellul to help them understand the world–should read it."
–Noah Toly, Wheaton College
"This book is a literary gem, with its readability index a number 10. The history is deep and the theoretical work crystal clear, the sociology is impeccable and the news events live. Relevance may be overvalued in publishing, but here it is pure gold: terrorism, police atrocities, cybersecurity, economic brutality, high-tech weapons of war, ruthless dictators–readers are absorbed and ideas emerge to help provide context to the violence. Ellul's writing and reflections on violence and war give the book cohesion, and an all-star cast of Ellul scholars examines contemporary events through the lens of his thought, providing a new book that is stunning in its inclusiveness."
–Clifford Christians, University of Illinois-Urbana
---
"…we are witnessing a rewriting of the past and of history that is entirely favorable towards Muslim peoples, a reinterpretation of the Koran, and a willing receptiveness to all the intellectual or spiritual trends in Islam."
— Jacques Ellul, "Three Pillars of Conformism" in Islam and Judeo-Christianity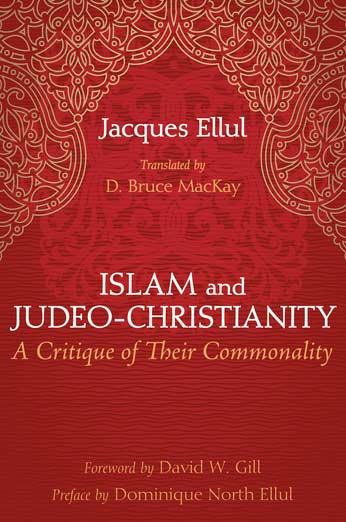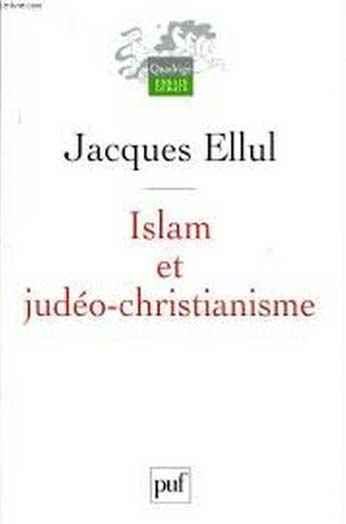 Newly Translated:
Islam and Judeo-Christianity: A Critique of Their Commonality BY Jacques Ellul TRANSLATED BY D. Bruce Mackay FOREWORD BY David W. Gill PREFACE BY Dominique Ellul (Cascade, 2015; an imprint of Wipf & Stock Publishers)


From the Foreword by David Gill:

"Ellul's writings on Islam display his usual passion and intensity. He is taking an unpopular position in a French intellectual milieu….In my view Yale Professor Miroslav Volf's Allah: A Christian Response, is an essential companion to Jacques Ellul's Islam et judeo-christianisme. Ellul provides a challenge to rethink Islam (and Judaism and Christianity), to cast off political correctness and comforting myths we may hold, to face the truth with courage, to speak with candor, and then to move forward toward a genuine peace and understanding. Volf demonstrates how such an encounter might proceed in peace."

Synopsis:

The theme of Islam and Judeo-Christianity is the relationship between these three faiths under three headings that are often promoted as a basis for commonality between them (sons of Abraham, monotheism, and religions of the book). Ellul incisively critiques these expressions, finding less common ground than is generally accepted and a pattern of conformism.

The English edition of Islam and Judeo-Christianity includes a foreword by David Gill and Dominique North-Ellul, and Alain Besancon's extensive foreword to the French edition of Islam and Judeo-Christianity (relocated to the appendices in this edition). The book also includes other writings on this theme by Ellul: Firstly, chapter 5 from Ellul's Subversion of Christianity where "Islam is portrayed as a non-progressive, totalitarian religion, founded on the concept of divine right, and credited with having introduced into Christianity the idea of holy war." Secondly, Ellul's foreword to The Dhimmi: Jews and Christians under Islam written by Bat Ye'or (1985), which documents the conditions of Jews and Christians in Muslim society. Thirdly, Ellul's foreword to The Decline of Eastern Christianity under Islam: From Jihad to Dhimmitude, also by Bat Ye'or (1996), which further explores the history of Jews and Christians under Islam.

Endorsements:

"Bruce MacKay has done the English-speaking world a great service in providing a flowing and eminently readable translation of Ellul's critique of Islam and, indeed, of any facile eirenicism held toward it. Although having died over twenty years ago, his work should not be dismissed as dated. His critical reflections resonate even more loudly in an age of rising Islamist extremism. Whether controversial or conventional, Ellul's critical analysis and reflection requires careful consideration by all."

–Douglas Pratt, Professor, Religious Studies, University of Waikato, New Zealand

"The arrival of a new work by Jacques Ellul so long after his death is worth celebrating. . . . Ellul on Islam is crisply theological, and provides some key insights into how Christians should respond to the high moral tone which Islam sometimes takes in the west. . . . It is a very useful addition to the Ellul corpus, enabling us to see how he combined orthodox Protestantism with a rich social engagement."

–Peter Lineham, Professor of History, School of Humanities, College of Humanities and Social Sciences, Massey University Albany, New Zealand

Translator Bio:

Bruce MacKay was born in South India, the son of Open Brethren missionaries and with his family moved to New Zealand in 1960. He has trained and worked as a landscape architect, recreation planner, and ecologist in New Zealand and the UK. He currently works in New Zealand as an ecologist. He has three adult children also living in New Zealand.

To order this book, go to:
https://wipfandstock.com/islam-and-judeo-christianity.html