Remembering Marva Dawn (1948-2021)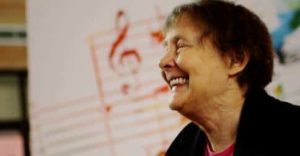 Long-time Ellul scholar, IJES friend, and Ellul Forum contributor Marva Dawn died at age 72 on April 18, 2021, at her home in Vancouver, Washington, with her husband Myron Sandberg by her side.  Marva was a prolific author and indefatigable teacher and preacher around the globe. She authored more than twenty books which were often translated into French, Chinese, Korean, Portuguese and other languages. All the royalties from her books she directed to support various non-profit organizations. She was also fluent in American Sign Language.  She taught courses, lectured, and led conferences and retreats at Regent College (Vancouver BC) and many other universities and seminaries—as well as for churches of all denominations. Although she struggled with health challenges for decades, she was a force of nature, humble but brilliant, insightful, impactful, and unfailingly kind and generous. She was a free-lance teacher with the organization she founded, Christians Equipped for Ministry.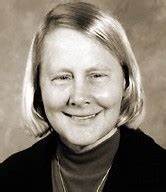 Marva was raised a Lutheran, did her undergraduate studies at Concordia University in Chicago, and earned master's degrees at Pacific Lutheran Seminary, Western Evangelical Seminary, the University of Idaho, and Notre Dame. It was also at Notre Dame that she earned her PhD in Christian Ethics with a brilliant thesis on the New Testament concepts of the "principalities and powers" with special reference to Jacques Ellul's writings on the subject.  (See below.)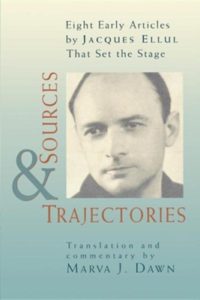 Among her books is Sources and Trajectories: Eight Early Articles by Jacques Ellul That Set the Stage (Eerdmans, 1997)—translated with introduction and commentary by Dawn.  These essays were written by Ellul mostly in the 1940s.  I have been using Marva's Keeping the Sabbath Wholly: Ceasing, Resting, Embracing, Feasting (Eerdmans, 1989) for decades when teaching or writing about the Decalogue or workplace discipleship and ethics. The Hilarity of Community: Romans 12 and How to Be the Church (Eerdmans, 1992) is another personal favorite as she unpacks the biblical text with great insight into the source and equally great suggestions for application in our technological society (Ellul references of course!).
Marva Dawn was much more than just a promoter and scholar of Jacques Ellul's legacy but those of us in the International Jacques Ellul Society especially mourn her loss while gratefully celebrating her life and work. Rest in peace dear sister and colleague.
David W. Gill
President
International Jacques Ellul Society (www.ellul.org)
Dawn's Dissertation: "The Concept of 'The Principalities and Powers' in the Works of Jacques Ellul," Ph.D. Diss., Notre Dame, 1992.  (This will be a new publication project for Wipf & Stock Publishers, with a goal to print it in 2022. For questions or inputs, contact Ted Lewis at ellulsociety@gmail.com)
To order a copy of her book on Ellul's early essays, Sources and Trajectories, go to Wipf & Stock Publishers and pay 20% off retail price listed. Also orders@wipfandstock.com
Original reviews of this book:
"Marva Dawn has provided a major gift to thoughtful Christians and social analysts with her translation of and commentary on these previously obscure French essays by Jacques Ellul. The articles themselves are full of the flashing insight and challenge that Ellul provided over an incredibly prolific fifty-year career. Dawn's translations are painstakingly faithful; her introductory comments and footnotes are a superb contribution — helpful especially to those who have read little or nothing of Ellul's work in the past. Few readers of this volume will emerge without wishing for further encounters with Ellul's thought."    David W. Gill  —North Park College
"This book documenting the first springs of Jacques Ellul's thought in both sociology and theology is an exciting addition to the Ellul corpus in English."    Carl Mitcham  —Pennsylvania State University
_________________________________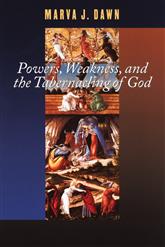 A THIRD WORK  in what could be called Dawn's 'Powers Trilogy' is
Powers, Weakness, and the Tabernacling of God (Eerdmans
, 2001).  This book provides a critique of Wink's treatment of the powers in his own trilogy of books, and builds further on Ellul's Barthian perspective on the powers wherein it is not the "principalities and powers" themselves that need to be demythologized (ala Bultmann), but rather the task at hand is to demythologize the myths of modern powers such as the state, mammon, and unquestioned scientific progress (p. 22). This perspective recovers a spiritual dimension to the powers which does not detract from the social dimension.
Stanley Hauerwas:
"This may well be the best and most important book Marva Dawn has written…. Dawn uses her profound reading of Paul's understanding of powers to illumine the challenges before the church. Drawing on the work of Jacques Ellul, she helps us see how the powers insidiously gain influence over our lives. Turly a wonderful book."
Walter Brueggemann
"Marva Dawn has become a powerful interpretive force of late, and this book advances significantly the weightiness of her contribution. In the wake of Jacques Ellul she asks hard questions about the church's carelessly and eagerly embracing too much of the world's notions of success and power. Into the middle of that gigantic misstep in the church, Dawn points yet again to the cross."