Conferences
Forthcoming on this page by Dec 2016…
a list of all previous IJES Conferences with main topics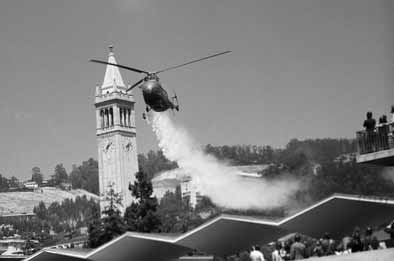 Photo Credit:
Nacio Jan Brown
http://naciobrown.pacificunion.com/profile
"University-authorized tear gas bombing of UC Berkeley Campus faculty, staff, demonstrators, onlookers, passers-by, and residents of nearby neighborhoods along with their children and pets. People's Park episode, May, 1969. "
We are excited to announce that plans are underway for our upcoming conference, "Politics without Illusion, Revolution without Violence: Reviewing the Contributions of Jacques Ellul," to be held July 6 to 8, 2016, in Berkeley, California.
Registration before May 2016 is $90, and the conference is limited to 80 attendees.
Please visit the conference site for all the details. This site will serve as the primary hub for all conference information and registration.
A call for papers is now posted with a deadline of November 10, 2015. If you sign up for Ellul Updates for News and Events, you will receive an email with more information about the call for papers.
---