The Ellul Forum
Please visit our Ellul Forum journal site for all editions and information.
About
Jacques Ellul (1912–94) was a French thinker and writer in many fields: communication, ethics, law and political science, sociology, technology, and biblical and theological studies, among others. The aim of the Ellul Forum is to promote awareness and understanding of Ellul's life and work, and to encourage a community of dialogue on these subjects. The Forum publishes content by and about Jacques Ellul and about themes relevant to his life and thought, from historical, contemporary, or creative perspectives. Content is published in English and French.
Subscriptions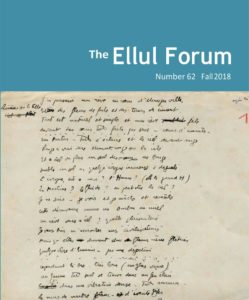 The Ellul Forum is published in print twice a year and sent to members of the International Jacques Ellul Society by either direct mail or PDF via email. Please join or renew your membership.  Current membership is now $40 (US) per year to help cover costs of journal production and mailing.
If you have an address change since the time of your initial membership, please send your current address to ellulsociety@gmail.com
Submissions
The Forum encourages submissions from scholars, students, and general readers. Submissions must demonstrate a degree of familiarity with Ellul's thought and must engage with it in a critical way. Submissions may be sent to ellulforum@gmail.com. Comments and responses to published articles can also be directed to this email.
Forum Index
A full index of all editions since our first one in 1988 is available on the Ellul Forum site.
__________________________
Wanted: Book Reviewers for the Ellul Forum
We are looking for volunteers to write book reviews of recently published books related to the IJES emphasis on the Critique of the Technological Society or related themes. If you have recently been reading a book that is relevant to this theme, or to the work of Jacques Ellul or Bernard Charbonneau, please contact Jacob Van Vleet at  JVanVleet@dvc.edu
For examples of book reviews, see recently published book reviews in the Ellul Forum.
Completed book reviews can be submitted to ellulforum@gmail.com
TIP: Many publishers will mail you a
free copy

of a book if you commit to writing a review for it.  It's a great way to get a free book and at the same time help out the Ellul Forum to fill its pages.

Don't forget that qualifying books do not have to be by or about Ellul!