The Ellul Forum
Please visit our Ellul Forum journal site for all editions and information.
About
Jacques Ellul (1912–94) was a French thinker and writer in many fields: communication, ethics, law and political science, sociology, technology, and biblical and theological studies, among others. The aim of the Ellul Forum is to promote awareness and understanding of Ellul's life and work, and to encourage a community of dialogue on these subjects. The Forum publishes content by and about Jacques Ellul and about themes relevant to his life and thought, from historical, contemporary, or creative perspectives. Content is published in English and French.
Subscriptions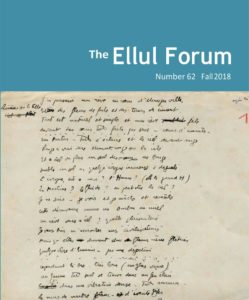 The Ellul Forum is published in print twice a year and sent to members of the International Jacques Ellul Society by either direct mail or PDF via email. Please join or renew your membership.  Current membership is now $40 (US) per year to help cover costs of journal production and mailing.
If you have an address change since the time of your initial membership, please send your current address to ellulsociety@gmail.com
Submissions
The Forum encourages submissions from scholars, students, and general readers. Submissions must demonstrate a degree of familiarity with Ellul's thought and must engage with it in a critical way. Submissions may be sent to ellulforum@gmail.com. Comments and responses to published articles can also be directed to this email.
Forum Index
A full index of all editions since our first one in 1988 is available on the Ellul Forum site.
__________________________
Spring 2020 Invite for Special Spring 2021 Issue of the Ellul Forum
Call for Papers—A Christian Response to Modern Technology
Guest editors: Richard Stivers and J.M. van der Laan
In his prophetic work Hope in Time of Abandonment, Jacques Ellul argues that the church needs to rethink its position on technology in terms of abandonment / hope. He asserts that we live in a time, not unprecedented, in which God has abandoned us and we Him. We are left to our own devices, notably technology. Christian hope must fill the void of God's abandonment of the church and the world.
We are calling for papers on a Christian response to modern technology in terms of abandonment / hope. What does it mean to relate to technology and use it as an act of hope? You may choose to write about a specific technology or set of technologies rather than technology in general if you wish. The papers should be less academic and more existential. We need to clarify our starting position, rather than work out a detailed ethic, Ellul states. We will assume that readers will have at least a general knowledge of Ellul's ideas about technology.
Submissions may be in essay or short story form. They should be in English and between 3,000 and 4,000 words. Submissions are due by October 31, 2020. Please send your submission to ellulforum@gmail.com