New Publications
Books from Wipf & Stock Publishers and Elsewhere
Summer 2023 July thru August
40% off all Wipf & Stock Books with IJES40 code
for assistance, call 541-344-1528
by Jacques Ellul
Edited by Michael Morelli / Translated by Kelsey Haskett
Includes critical engagement by five contributors.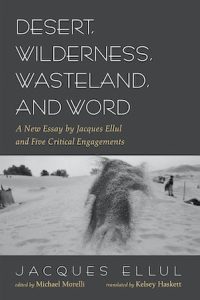 Desert, Wilderness, Wasteland, and Word features an English translation of a recently discovered and until-now unpublished essay of Jacques Ellul's that examines the significance of the desert from biblical, theological, and ethical perspectives. It also provides an introduction that contextualizes Ellul's piece, and five incendiary essays that critically reflect on Ellul's work. Altogether, this volume offers fresh and provocative insight into the writings of Jacques Ellul during a historical moment that appears to be on its way to, or already in, a desert, wilderness, and wasteland, with many people in it who are desperate for encounters with a new, revitalizing Word.
"From the biblical topic of desert to modern desert and spiritual wilderness in our lives, this book is a fascinating course between void and voice, fullness and silence, death and life, on the way to the real life which rises from void and death. Jacques Ellul and several high experts on Ellulian thought lead us along this hard road. A nourishing, thirst-quenching and essential book!"
—Frédéric Rognon, professor of philosophy, University of Strasbourg
"Desert, Wilderness, Wasteland, and Word is a wonderful collection of essays, a gift not just to Jacques Ellul scholars but to thoughtful readers, especially Christians, everywhere. As Ellul provided us with a fully-developed biblical study of The Meaning of the City in 1970, so he provides here an insightful collection of insights and challenges about 'the meaning of desert and wilderness'—thanks to the careful reconstruction of his notes by Jean-Philippe Qadri and Jerome Ellul. This is an extraordinary and timely book."
—David W. Gill, president, International Jacques Ellul Society
_____________________________________
Les racines libertaires de l'écologie politique (The Libertarian Roots of Political Ecology)
by Patrick Chastenet
For direct access to order the book from the French publisher Mollat (Feb. 2023)
À la (

re

)découverte d'Élisée Reclus, Jacques Ellul, Bernard Charbonneau, Ivan Illich et Murray Bookchin.
Long before the ecological Green Rush of the 1970s and 80s, five precursors thought politically about the relationship between man and nature. Three claim anarchism, two are close to it, but each for its part has greatly enriched the libertarian soil of political ecology.  The author of this new study has befriended Jacques Ellul, of whom he is an internationally recognized specialist. He sympathized with Ivan Illich and Bernard Charbonneau before discovering the works of Élisée Reclus and Murray Bookchin. In short, this book introduces us to the thoughts of these five precursors still too little known but whose current events have not finished surprising us.
(Future hope: for this to be translated into English)
Listen to a recent interview with Chastenet about the book (in French)
_____________________________________
Avec Jacques Ellul: Théologien de l'espérance (With Jacques Ellul: Theologian of Hope) 2023
by Frédéric ROGNON a consacré de nombreux ouvrages à Jacques Ellul. Il est professeur de philosophie des religions à la faculté de théologie protestante de l'université de Strasbourg.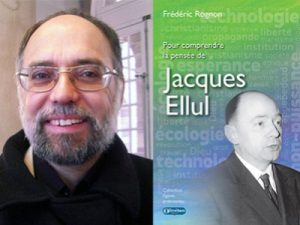 Jurist, historian of institutions, Protestant theologian, resistance fighter, environmentalist, committed to the prevention of juvenile delinquency and leader within the Reformed Church… Jacques Ellul (1902-1994) was all of the above. His thought and his considerable works are known and continue to be a source of study and inspiration for many Christians and beyond. With a bent toward anti-conformism, Jacques Ellul searched all his life to exist as a Christian in a world that has put its faith in technology. He walked a path of commitment under the sign of hope, without illusion or resignation. We know less about his spiritual life, about which he dwells little, and for which he had immense modesty. However, Jacques Ellul was a man of prayer. He found there a way of breathing, the inspiration and the strength to stand up: "If you want to be truly revolutionary in this society (…) be contemplatives", he wrote in Autopsy of the Revolution (1969).
Contact PRESSE : Aude Cossic / 06 03 60 82 49 – aude.cossic@elidia.fr / Facebook : @EditionsNouvelleCite / Éditions NOUVELLE CITÉ, Domaine d'Arny, 91680 Bruyères-le-Châtel / www.nouvellecite.fr
IJES now looks forward to an eventual English translation of this book on Ellul's spirituality!
_____________________________________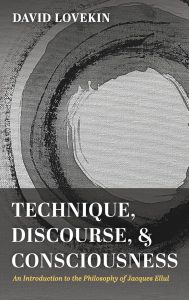 This study examines Ellul's historical, biblical, and social analyses of how technology manipulates and impoverishes modern thought, culture, and language. In the spirit of Georg Hegel and Ernst Cassirer, Ellul explores how technology begins in myths, stories, and religion, advances to tools, and then develops into data, algorithms, and abstract systems which are detached from human bodies and communities. Efficiency then becomes an absolute in all areas of human life, and the mentality of technique becomes lost in its creations. These modern symbols, posing as ultimate human goods and values, are denigrated by technique, leaving humanity awash in cliches, in groundless social media, and in blathering slogans that sustain the illusion that politics and culture have now become.
"Lovekin is the leading representative of the philosophical interpretation of Ellul's concept of technique as the basis of modern society. He expertly takes the reader through Ellul's demonstration of the transposition of thought from the pursuit of the summum bonum to thought as the production of an ensemble of means that constantly expands itself and from which there is no exit."
—Donald Phillip Verene, Emory University
"With his philosopher's eye, Lovekin delves deeply into technique's multilayered intervention in culture, its symbols, its tools, its products. Technique is a modern mythology that has become a historical necessity. Readers of all backgrounds will benefit from this revealing study, which asks, indeed compels, us to consider the way things are, but also to consider what they might be or what they 'ought' to be."
—Samir Younés, University of Notre Dame
_____________________________________
by Michael Morelli   (Rowman & Littlefield, 2021)
________________________________________
by Jacques Ellul  (Wipf & Stock Publishers, 2021)
"Anyone interested in promoting or communicating the truth in our frantic society will be challenged and assisted by The Humiliation of the Word. The translation and preface by Joyce Hanks are a superb contribution from an expert in Ellul's thought as well as the French language."    — David W. Gill
New Foreword by Ted Lewis; Afterword by Jacob Marques Rollison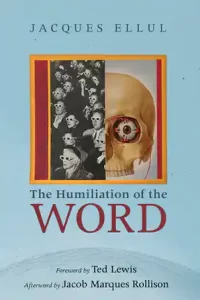 Well-known for his many books on sociology and theology, Jacques Ellul creatively braids these two strands together in this provocative examination of how reality (which is visual) has superseded truth (which is verbal) in modern times. Ellul explores biblical texts for distinguishing visual cultural forms from the communicative (divine and human) Word, then examines how this distinction plays out with the rise of audiovisual media in the 20th-century West. Even in human speech, visual forms dominate contemporary life and devalue the word; this insight informs discussion of the image/word clash in religion, politics, and art. After a scathing critique of present-day idolatry, Ellul places his hope for nonviolent community in the fragile spoken word. Ultimately, Ellul sees the Bible as presenting a hopeful vision of reconciliation–between visual reality and spoken truth. A new afterword by Jacob Marques Rollison contextualizes Ellul's stance within French postmodern thought, illuminating Humiliation of the Word as an outspokenly "Protestant communication ethic" in contemporary philosophical and theological discussions of language.
Advance to webpage for direct ordering.
__________________________________
by Jacob Marques Rollison  (Lexington Books, 2020)
"Twenty five years after his death, Jacques Ellul is more alive than never with this fascinating book. He shows which would be the actual presence of the Christians in the postmodern world. Very stimulating!" — Frédéric Rognon, University of Strasbourg
"Rollison has woven together numerous strands in the study of Ellul's writings, presenting a fresh, welcomed challenge to postmodernist trends that devalue the role of language in today's world. Anyone interested in a theologically-informed 'ethics of communication' will profit greatly from this engaging book." — Ted Lewis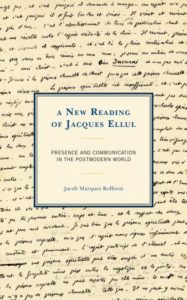 This book presents an original and dynamic reading of the twentieth-century French sociologist and theological ethicist Jacques Ellul. Adopting Ellul's use of 'presence' as a hermeneutical key to understanding his work, it examines the origins of Ellul's approach to presence in his readings of Kierkegaard and the biblical book of Ecclesiastes, highlights the central structural role of presence in Ellul's theological ethics, and elucidates a crucial turning point in Ellul's theology following a personal crisis in Ellul's faith and life. Drawing from numerous unpublished and untranslated texts, Jacob Marques Rollison argues that this crisis involves confrontation with a critique of presence manifest in Ellul's reading of and engagement with Michel Foucault. Marques Rollison distills Ellul's sociological critiques and theological responses to this crisis, presenting Ellul's evolving theology against the background of major shifts in French intellectual life. In doing so, the author simultaneously calls for renewed engagement with Ellul's prophetic thought, critically appraises Ellul's dialectical theology and Marxist inheritances, and develops a robustly Protestant approach to theological communication ethics for our time.
******
"This book is the fruit of a decade of ongoing dialogue with Ellul's texts. The longer I read his works, the more I was convinced that his perspective offered a careful and hopeful response to questions which the 'postmodern' condition has raised for communication, truth, and faith. These questions are of central importance in the challenges which western society as a whole is currently facing. I wrote this book to draw out and illuminate that response in hopes that it might offer hope to others as well."    — Jacob Marques Rollison
_____________________________________
Jacques Ellul and the Bible: Towards a Hermeneutic of Freedom
Edited by Jacob Marques Rollison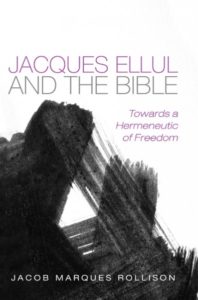 This striking collection of scholarly essays (which were first presented at the 2018 IJES conference in Vancouver, Cananda) highlights the hermeneutic contribution of the French theologian and sociologist Jacques Ellul, revealing him to be one of the twentieth century's most creative and insightful readers of the Bible. With a breadth of contributors ranging from established biblical scholars and theologians to pastoral practitioners, from top Ellul scholars to emerging voices—and including six first-time English translations of Ellul's own articles—this volume not only provides a detailed overview of Ellul's biblical approach but also constitutes a crucial moment in Ellul's theological reception. This book counts as a clear demonstration that the full potential of Ellul's theological interpretation of Scripture to rejuvenate and reconfigure contemporary biblical hermeneutics has yet to be seen.
"This is a timely resource on an important topic for both Ellul studies and anyone interested in Christianity and the Bible. Ellul is an often overlooked theologian but is increasingly important today for his analysis of and response to contemporary technological culture. In order to understand this prophetic response, one must consult Ellul's use and reading of the Bible. Marques Rollison et al. have provided an indispensable guide for all of us."
–Michael Burdett, Assistant Professor of Christian Theology, University of Nottingham
Advance to the webpage for this book.
________________________________________
Jacques Ellul: A Companion to His Major Works
Edited by Jacob E. Van Vleet and Jacob Marques Rollison
"This little book is an excellent digest, which accurately summarizes the thought of Jacques Ellul and offers it to every reader. It presents the theological and the sociological sides of his work with equilibrium, and above all points exactly to the dialectical relationship between them. Thanks to it, we can appropriate the main ideas of Jacques Ellul, and understand the global coherence of a thought which is so pertinent for our time."
—Frédéric Rognon, University of Strasbourg
"This book is a triumph of beautifully sensitive synthetic analysis on one of the most important thinkers of the twentieth century. Highly recommended."
—Paul Tyson, Institute for Advanced Studies in the Humanities, University of Queensland
"For the first time, Ellul's sociological and theological writings are covered in a single volume. A significant achievement, and highly recommended."
—Jeffrey Shaw, Salve Regina University
Cover artwork by Stephanie Martens, Graphic Designer, Vancouver, BC, Canada
Advance to the book's webpage. 
________________________________________
Political Illusion and Reality: Engaging the Prophetic Insights of Jacques Ellul
Edited by David W. Gill and David Lovekin (Cascade / Wipf & Stock Publishers, 2019)
"Political Illusion & Reality is a stunning collection of essays by a remarkable community of scholars influenced by Jacques Ellul. I was taken aback by its range and insightfulness, and its testimony to the continuing vitality of Ellul. I commend it to anyone who doubts the relevance of Ellul's sociological, philosophical, and theological analyses of the technological way of life within which we are all now increasingly enmeshed."
—Carl Mitcham, international professor of Philosophy of Technology at Renmin University of China in Beijing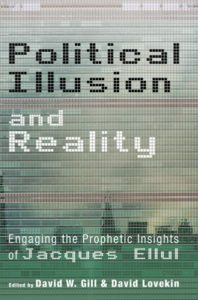 Are all governments—east and west, Muslim and secular, authoritarian and constitutional, Republican and Democratic—fundamentally the same, all of them under the extraordinary, growing power of "technique" and bureaucracy? Is all politics, then, just an illusory affair of lies, deception, propaganda, partisan passions, and chaos on the surface of government and party? In his vast and penetrating writings, Bordeaux sociologist Jacques Ellul (1912–1994) points in those directions.
Political Illusion and Reality is a collection of twenty-three essays on Ellul's political thought. Veteran as well as younger Ellul scholars, political leaders, activists, and pastors, discuss aspects of Ellul's thought as they relate to their own fields of study and political experience. Beginning with his 1936 essay "Fascism, Son of Liberalism," translated and published here in English for the first time, Ellul and these authors will provoke readers to think some new thoughts about politics and government, and think more deeply about the main issues we face in our politically divided and troubled times.
"The essays in this collection… do real justice to someone who anticipated the political and philosophical crises which stretch across the so-called developed world in the present. If we want to understand where we are today, we must read and reread Ellul. This book from an International Jacques Ellul Society colloquium at Berkeley, California, will help everyone to better grasp the universal relevance of Ellul's thought. Even in France, where we often quote the saying 'A prophet is not without honor save in his own country,' I hope this indispensable collection will also be translated and published in France."
—Noël Mamère, former mayor of Bègles, France, and former student of Jacques Ellul
"Provocative. Informative. Enlightening. At a time when we place our trust in the political system and the state to meet all our needs and protect us from harm, Ellul challenges us to rethink the object of our trust and affections. Anyone seriously interested in understanding the place of government in our lives today will want to read this book."
—Geraldine E. Forsberg, instructor of media ecology at Western Washington University
Download a Promotional Flyer with 40% discount information.
__________________________________________________
A long-awaited project!  Charbonneau is now in English!
The Green Light: A Self-Critique of the Ecological Movement (Bloomsbury Academic (June 2018)  Original French edition published in 1980 Le Feu vert de Bernard Charbonneau (réédition Parangon, 2009)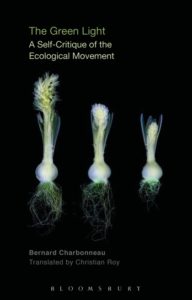 The Green Light ('Le Feu Vert') offers an original and profound exploration of the roots of environmental philosophy and the Anthropocene. Bernard Charbonneau situates the wellspring of the ecological movement in the dialectics of Nature and Freedom, and their needful but uneasy joining against the totalizing system of technological society that threatens them both. Using this paradoxical tension as a yardstick, he probes the ways in which concepts of Nature have developed as industrialization became second nature and jeopardized the original, taken for granted until its advent. This allows Charbonneau to explain how movements and policies claiming to deal with this issue have gone wrong. A spirited critique of how the environmental movement has taken shape in relation to philosophy, politics, theology and contemporary culture, this book written in 1980 is representative of an oft-overlooked strand of French environmentalist thought, as a look back on its first decade in the public eye by a man who had originated political ecology half a century earlier.
Charbonneau can be said to have prepared the way for many current concerns within environmental thought: the tension between liberalism and ecologism in green political theory; the wider question of the compatibility of ecological imperatives with supposedly foundational freedoms under capitalism; the discussions over how to balance existing democratic structures with environmental goals; the tensions between radical and reformist strategies within green movements; the controversy over the core values of ecological politics in a world transformed by climate change and peak everything; and the proper attitude of environmental movements to institutional science. This ground-breaking work should be front and centre of the debates that he anticipated, while giving a timely perspective on the interconnected questions of nature and human freedom.
This first English translation of a work by Bernard Charbonneau provides not only a vivid account of environmental philosophy, but an introduction to this important author's thought.
Bernard Charbonneau (1910-1996) was a French philosopher who specialised in political ecology and critiques of technology. Today he is considered by a growing number of environmentalists as a visionary forerunner of political ecology. View a full list of his writings and also read about Charbonneau's life and friendship with Ellul.
Christian Roy is a cultural historian (Ph.D. McGill 1993), an art and cinema critic, and a multilingual translator. He is an expert on the lives and thought of both Bernard Charbonneau and Jacques Ellul.
Read a longer review in French on the BioSphere website.
"This important book should have been translated more than 30 years ago. Yet it is even more relevant now, in a world undergoing global climate change, than it has ever been. Daniel Cerezuelle, Christian Roy, and Piers H.G. Stephens are all to be praised for making a book by Bernard Charbonneau available to English language readers."
–  Carl Mitcham, International Professor of Philosophy of Technology, Renmin University of China, China, and Emeritus Professor of Humanities, Arts, and Social Sciences, Colorado School of Mines, USA,
_____________________________________________________
From the "Modern Spiritual Masters" series by Orbis Books (2016)
Jacques Ellul: Essential Spiritual Writings (edited by Jacob Van Vleet)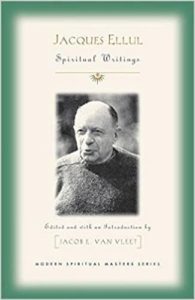 Throughout his work Ellul spoke out against the "idols and myths" of the modern age, including technology, politics, materialism, and violence. His prophetic critique of modern civilization won an appreciative audience far beyond Christian circles. Yet this was only one half of a project that drew deeply on his Christian faith.
For nearly every sociological book he wrote, Ellul would write a theological or spiritual counterpart. And yet this other half of his work has received relatively little attention. This volume corrects the balance, highlighting spiritual gems on prayer, hope, and universal salvation. His call to reject the worship of the state and to embrace nonviolent activism has an abiding relevance and urgency, particularly in these times of protracted war and violence, gaping economic inequality, and enormous suffering.
Jacob E. Van Vleet is an assistant professor of philosophy in humanities and philosophy at Diablo Valley College, Pleasant Hill, CA, and serves on the Board of Directors of the International Jacques Ellul Society. He is author of Dialectical Theology and Jacques Ellul (Fortress Press, 2014).
To order a copy from Orbis, click here.
_____________________________________________________________________
The following three books by Wipf & Stock Publishers can be purchased for 20% off when ordering directly from the publisher.  Call 541-344-1528 or email:  orders@wipfandstock.com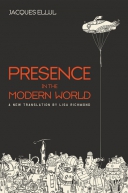 A new translation by Lisa Richmond (with a foreword by Ted Lewis, and an "Introduction to Ellul's Life and Thought" by David Gill)
To read more about the book and about ordering, click on the book.
"Today the moral question above all others is how to be truly awake and fully equal to the technological world. Jacques Ellul as a young man saw the question and began to outline the answer in Presence in the Modern World."
–Albert Borgmann, author of Power Failure: Christianity in the Culture of Technology
"Read Presence in the Modern World. Not only is it the introduction to Ellul's entire body of work, but its emphasis on Christians' revolutionary situation in the world has never been more relevant."
–Patrick Chastenet, University of Bordeaux; President, the Association Internationale Jacques Ellul
"This book announces Ellul's whole future body of work, bearing within itself the seed of that work's choices and developments."
–Bernard Rordorf
For a promotional flyer for this book, click here
---
 Edited by Jeffrey M. Shaw and Timothy J. Demy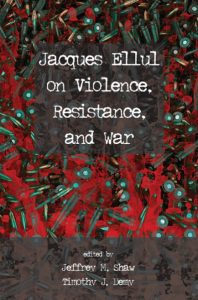 The last few decades seem to have ushered in new levels of violence, challenging the notion that our globalized, interconnected world offers increased prospects for cooperation and peace. Many philosophers and theologians have offered various reasons for why this might be so, but none has come so close as the French philosopher Jacques Ellul to providing a comprehensive explanation for many of the pitfalls inherent in increasing levels of technological advance. The chapters in this book explore the phenomena of violence, terrorism, and war through the lens of Ellul's thought. Readers unfamiliar with Ellul will find as much to consider in these chapters as those who have studied Ellul extensively, and for both the novice and the expert, this book offers an opportunity to both evaluate and reevaluate Ellul's extensive thought on matters of importance to contemporary society.
"Jacques Ellul on Violence, Resistance, and War brings together insightful essays by leading scholars on Ellul's relevance and foresight. In these times we owe it to ourselves to consider Ellul's wisdom. This is a thoughtful collection that will help us interpret, understand, and apply his profound ideas."
–Jacob E. Van Vleet, Diablo Valley College
"Jacques Ellul was one of the twentieth century's most prolific and influential public intellectuals. That his work inspired both pacifism and violent protest is a sign of its power and complexity. In this volume, Jeffrey Shaw and other thoughtful contributors explore the implications of Ellul's work as it relates to our contemporary world, awash as it is in violence. Anyone who wants to understand Ellul–or wants Ellul to help them understand the world–should read it."
–Noah Toly, Wheaton College
"This book is a literary gem, with its readability index a number 10. The history is deep and the theoretical work crystal clear, the sociology is impeccable and the news events live. Relevance may be overvalued in publishing, but here it is pure gold: terrorism, police atrocities, cybersecurity, economic brutality, high-tech weapons of war, ruthless dictators–readers are absorbed and ideas emerge to help provide context to the violence. Ellul's writing and reflections on violence and war give the book cohesion, and an all-star cast of Ellul scholars examines contemporary events through the lens of his thought, providing a new book that is stunning in its inclusiveness."
–Clifford Christians, University of Illinois-Urbana
---
"…we are witnessing a rewriting of the past and of history that is entirely favorable towards Muslim peoples, a reinterpretation of the Koran, and a willing receptiveness to all the intellectual or spiritual trends in Islam."
— Jacques Ellul, "Three Pillars of Conformism" in Islam and Judeo-Christianity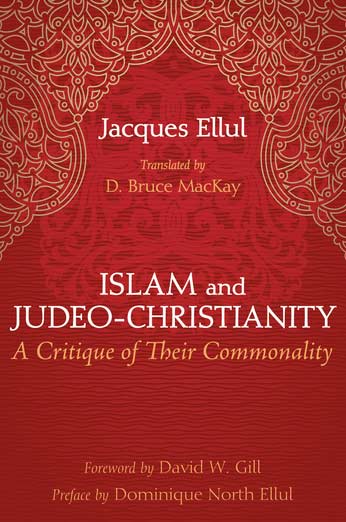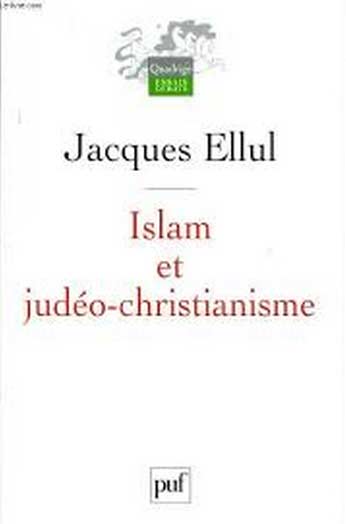 Newly Translated:
Islam and Judeo-Christianity: A Critique of Their Commonality BY Jacques Ellul TRANSLATED BY D. Bruce Mackay FOREWORD BY David W. Gill PREFACE BY Dominique Ellul (Cascade, 2015; an imprint of Wipf & Stock Publishers)


From the Foreword by David Gill:

"Ellul's writings on Islam display his usual passion and intensity. He is taking an unpopular position in a French intellectual milieu….In my view Yale Professor Miroslav Volf's Allah: A Christian Response, is an essential companion to Jacques Ellul's Islam et judeo-christianisme. Ellul provides a challenge to rethink Islam (and Judaism and Christianity), to cast off political correctness and comforting myths we may hold, to face the truth with courage, to speak with candor, and then to move forward toward a genuine peace and understanding. Volf demonstrates how such an encounter might proceed in peace."

Synopsis:

The theme of Islam and Judeo-Christianity is the relationship between these three faiths under three headings that are often promoted as a basis for commonality between them (sons of Abraham, monotheism, and religions of the book). Ellul incisively critiques these expressions, finding less common ground than is generally accepted and a pattern of conformism.

The English edition of Islam and Judeo-Christianity includes a foreword by David Gill and Dominique North-Ellul, and Alain Besancon's extensive foreword to the French edition of Islam and Judeo-Christianity (relocated to the appendices in this edition). The book also includes other writings on this theme by Ellul: Firstly, chapter 5 from Ellul's Subversion of Christianity where "Islam is portrayed as a non-progressive, totalitarian religion, founded on the concept of divine right, and credited with having introduced into Christianity the idea of holy war." Secondly, Ellul's foreword to The Dhimmi: Jews and Christians under Islam written by Bat Ye'or (1985), which documents the conditions of Jews and Christians in Muslim society. Thirdly, Ellul's foreword to The Decline of Eastern Christianity under Islam: From Jihad to Dhimmitude, also by Bat Ye'or (1996), which further explores the history of Jews and Christians under Islam.

Endorsements:

"Bruce MacKay has done the English-speaking world a great service in providing a flowing and eminently readable translation of Ellul's critique of Islam and, indeed, of any facile eirenicism held toward it. Although having died over twenty years ago, his work should not be dismissed as dated. His critical reflections resonate even more loudly in an age of rising Islamist extremism. Whether controversial or conventional, Ellul's critical analysis and reflection requires careful consideration by all."

–Douglas Pratt, Professor, Religious Studies, University of Waikato, New Zealand

"The arrival of a new work by Jacques Ellul so long after his death is worth celebrating. . . . Ellul on Islam is crisply theological, and provides some key insights into how Christians should respond to the high moral tone which Islam sometimes takes in the west. . . . It is a very useful addition to the Ellul corpus, enabling us to see how he combined orthodox Protestantism with a rich social engagement."

–Peter Lineham, Professor of History, School of Humanities, College of Humanities and Social Sciences, Massey University Albany, New Zealand

Translator Bio:

Bruce MacKay was born in South India, the son of Open Brethren missionaries and with his family moved to New Zealand in 1960. He has trained and worked as a landscape architect, recreation planner, and ecologist in New Zealand and the UK. He currently works in New Zealand as an ecologist. He has three adult children also living in New Zealand.

To order this book, go to:
https://wipfandstock.com/islam-and-judeo-christianity.html

________________________________
All books by Cascade / Wipf & Stock Publishers can be purchased for 20% off when ordering directly from the publisher.  Call 541-344-1528 or email:  orders@wipfandstock.com
Periodically we post a period when books can be purchased at the 40% off conference price as announced in this flyer:     Ellul Books 40% Off