Call for Papers / Chapters
New Call for Papers  Feb – August 2021
Philosophical Journal of Conflict and Violence (PJCV)
Special Issue on
"Jacques Ellul and Violence"
 in 2022
Edited by Jacob Marques Rollison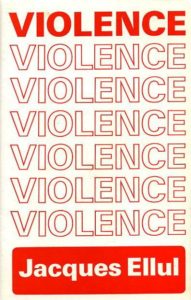 PJCV seeks articles exploring themes of conflict and violence in the life, work, thought, and intellectual legacy of Jacques Ellul (1912-1994). An "atypical, uncategorizable thinker, transgressing disciplinary borders" (François Dosse), Ellul penned a vast corpus of provocative and original writings in two broad categories: first, sociological writings analyzing elements of twentieth-century western society as expressions of technique (understood as a rational and willful drive will towards ordered efficiency); second, essays in protestant theological ethics and meditative biblical interpretation. These writings bring the voices of Ellul's three major influences—Søren Kierkegaard, Karl Marx, and the Swiss Protestant theologian Karl Barth—into stimulating dialectical conversation about politics, technology, art, media, communications, institutional evolution, morality, language, anarchy, revolution, urbanism—and notably, violence.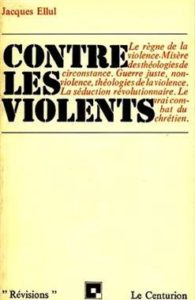 Especially in Contre les violents (1972), Ellul approaches violence as an unequivocal expression of necessity, a failure of freedom which consequently enmeshes the human subject in the play of sociological determinisms. Instead, Ellul proposes a positive "violence of love." His Théologie et technique (posthumous; 2014) continues these themes with an ethics of "nonpower," an ethical principle of self-limitation which springs from and allows for human freedom. But this rejection of violence was a later move, following Ellul's youthful willingness to partake in revolutionary violence; and yet, rejecting violence did not mean forsaking revolution, anarchy, or the endless conflict of dialectical thinking—themes which remain dear to him until the very end of his writing career. Revisiting this singular thinker's contribution to thinking about violence in all its forms promises not only to interrogate dominant approaches to the topic in Western late-modern discourse, but also to unearth fresh ethical perspectives.
Contributions are invited from a range of disciplines and interdisciplinary perspectives. Possible topics may include (but are not restricted to) the following:
Violence in the dialectic of freedom in necessity

Ethical explorations of non-power

Revolutionary violence in Ellul's own life

Propaganda and psychological violence

Violence and language

Ellul's critique of just war theory

Violence and anarchy

Violence and ecology in Ellul and Bernard Charbonneau

Ellul on biblical violence

Ellul's critiques of Jean-Paul Sartre

Marxist class struggle in Ellul's work

Ellul, Sorel, and revolutionary violence

Ellul and Girard's anthropology of violence

Ellulian perspectives on military and biotechnologies

Ellulian perspectives on violence/conflict in novels or movies

Philosophy of technology (Anders, Grant, Heidegger etc.), violence, and Ellul

Ellul on fascism and totalitarianism
Interested parties should send a proposed abstract of 200-300 words to jake.rollison@gmail.com and andreas.wilmes@trivent-publishing.eu  by September 1, 2021. Authors will be informed of acceptance no later than October 31, 2021. Full papers should be submitted by January 15, 2022, should follow the PJCV template available at trivent-publishing.eu/pjcv.html, and should be maximum 20 pages in length. The final publication is planned for May 2022.